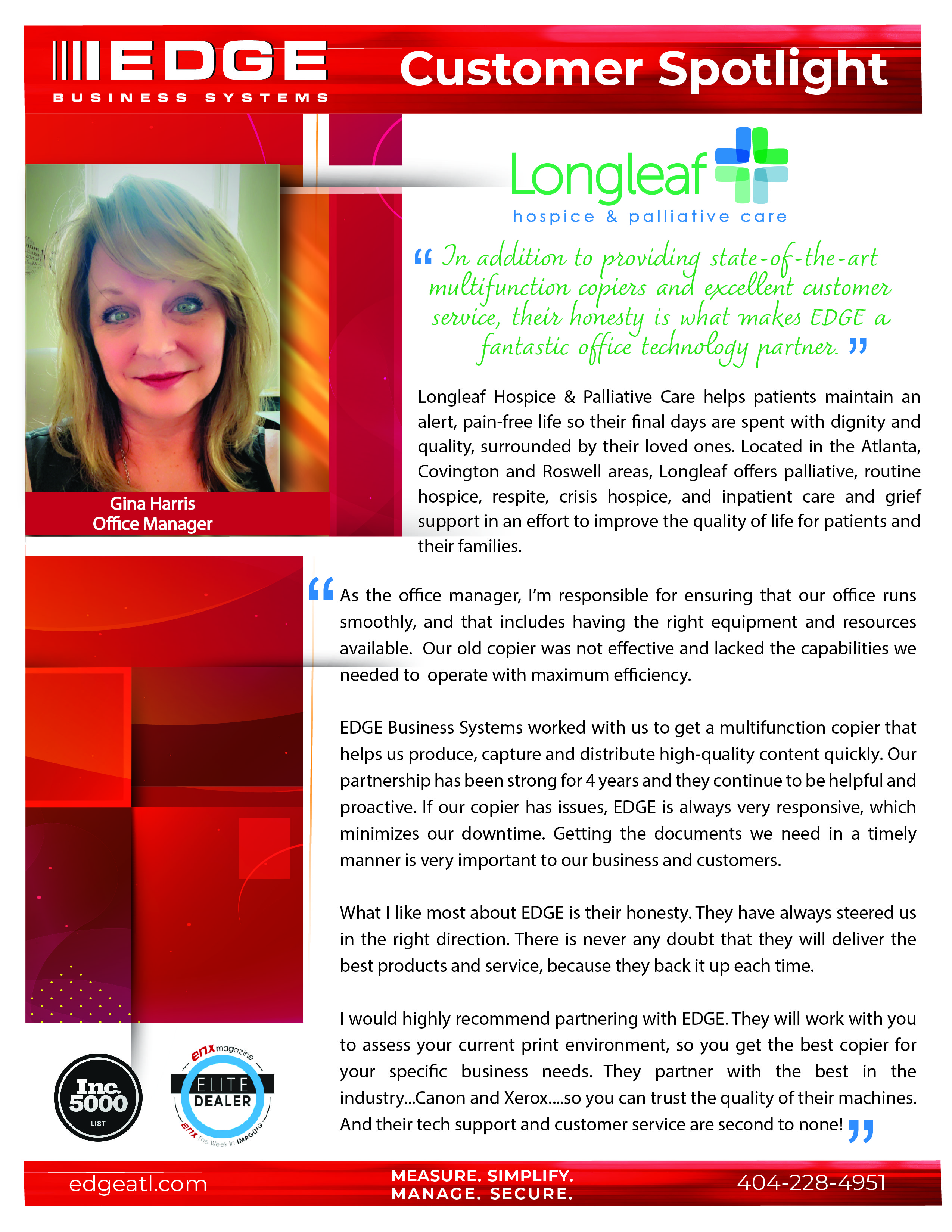 This company has Awesome Customer Service, Jan is the BEST! our Sales Rep Tommy is always there to help. The whole company goes over and beyond to help in anyway possible! We are so glad to have them for our copiers service. Definitely Recommend for your business.
My law office has used printers from Edge Business Systems for 3 years, and we recently moved to a new office and renewed our contract. I am so impressed with their service. Not only the printers are great, but their team is also fantastic. Everyone is friendly and ready to help. I am especially impressed by the technician Tolea, who came to install the new printer. When he saw me trying to move the furniture by myself, Tolea offered to help me. Tolea also patiently configured the machine to fulfill all of my requests. This kind of service is too great to be true! I would like to give a big thumb up to Tolea and the Edge team!
We have been using Edge Business systems for several years now, and they have been a great partner to the business. Their response time to our service issues has really made a big difference in keeping us up and running. For us, response time is critical and Edge has done a great job.
We have worked with EDGE for many years now and always appreciate their responsive, high-touch approach to customer service, their technical expertise and professionalism and, most importantly - as someone who pays the bills for my company - their 100% honesty in billing. I've seen plenty of printer/copier providers "pad" their billing over my career, but I can safely say EDGE has true integrity where many of their competitors do not. We are grateful to have business partners like EDGE that reflect our own standards of "doing business the right way" and highly recommend them.
Really enjoy my partnership with Edge. They've been wonderful for my business (before and during "COVID world"). My rep, Tommy Linda, is the best....very professional and consistent. I highly recommend Edge for business needs!
Great Experience with Boyd Christenberry in sourcing me a great deal on a gently used copier!
EDGE Business Systems is very attentive to clients needs, has excellent customer service and their generous to their community. Kevin Coker is great to work with, along with his team! Thanks Kevin & EDGE for being great vendors and community leaders!
Edge is a great company to do business with. Call Boyd Christenberry and you will not be disappointed. They installed 2 large MFPs for us back in September and from initial contact with Boyd to installation and then on to service, Boyd and his team excels. I highly recommend this company for their integrity, honest pricing and customer service. We just added managed printing services from Edge and installation was a breeze. They make it simple for the customer!
The nonprofit I work for has been a customer of Edge for over two years, and we've been exceedingly happy with their service. They are super responsive when we have any questions or issues with our machines, and always have a service tech onsite when needed by the next business day. Everyone I have dealt with at Edge is friendly, knowledgeable and professional. I would recommend them without hesitation!