Posted by Tech Support on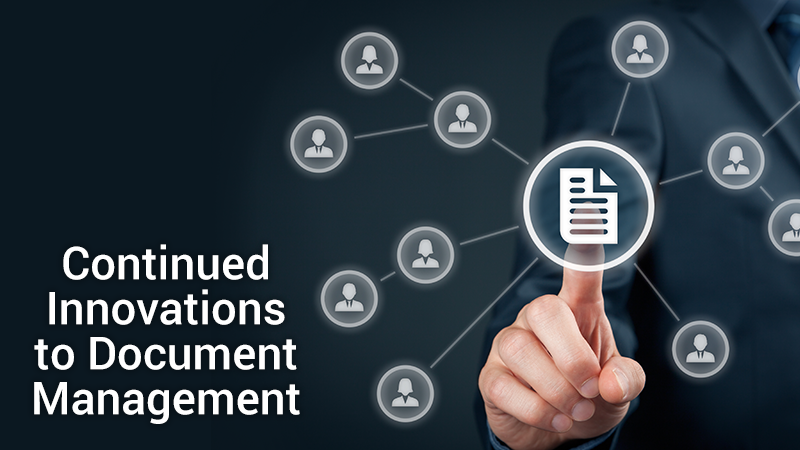 The processes for document management evolve almost as rapidly as the development of new and exciting electronic devices. Going from clay tablets in a stack to files of paper stored in cabinets took several thousand years, but going from acres of cabinets, each suitable to hold less than a thousand files, to computer servers, each capable of receiving, storing and retrieving millions of files only took a few decades.
About 10 years ago, a cutting-edge document management system merely shared files or documents for editing and Customer Resource Management tasks. Today, enterprises large and small recognize the value and need to centralize their document management procedures in order to stay current with their competition and dramatically lower costs. Continued innovations in document management technology produce many advantages for organizations looking to streamline their productivity.
Document Uploading to the Cloud
By scanning and electronically storing archived documents, all authorized staff members gain instant access across departments and even web-connected devices. With the ability to fetch document images or database information anywhere your team has secure access to the internet, business transactions in the field can proceed without skipping a beat.
OCR and Indexing
With the right Service as a Software (SaaS) program, the contents of your documents can be indexed by the optical character reader in the scanning process so that you can search and find relevant documents whenever you need them.
Increased Security
Never has it been practical to store paper files in individually-locked containers so that only pre-approved, authorized personnel had access. Rather, whole cabinets and storage rooms are secured, requiring proper approval to enter and view sensitive files. With all documentation stored securely in the cloud, individually-customized permission levels can be granted for document access, eliminating an entire level of security infrastructure and cost. The implications for HIPPA compliance alone is enormous.
One Document, One File, No Duplicates
If you can electronically store one document or file, then gone are the days of having to produce multiple copies for multiple files for multiple departments. In the cloud, one file serves every department where, in the past, they would've each possessed their own file copy. That's a lot of paper to keep track of. Additionally, creating electronic documents and sharing the editing process has become easy and far less time consuming since all pertinent workers can share the same document from different locations without printing and sending every draft. Collaboration becomes easy across a campus or even the globe.
Document Management and Output Devices
By pairing your document management system with your output devices, you can request your printer or multifunctional device to print via its interface. This innovation allows your staff to free up horizontal real estate in their offices by removing the directly-connected devices and placing them in a central location. Staff can utilize any of the print devices to digitally retrieve and print their documents. With this organized system, you also practically eliminate abandoned or forgotten prints.
These are just a few of the many innovations in document management and business solutions since the turn of the century. The convenience and expediency of digital control of paper flow allows enterprises to improve efficiency and reduce costs. EDGE Business Systems is your expert in customizing a document management solution for every need at affordable rates. Our expert staff is available to help you take the first step or build upon the system you've already developed. Call or contact us today.