Posted by Tech Support on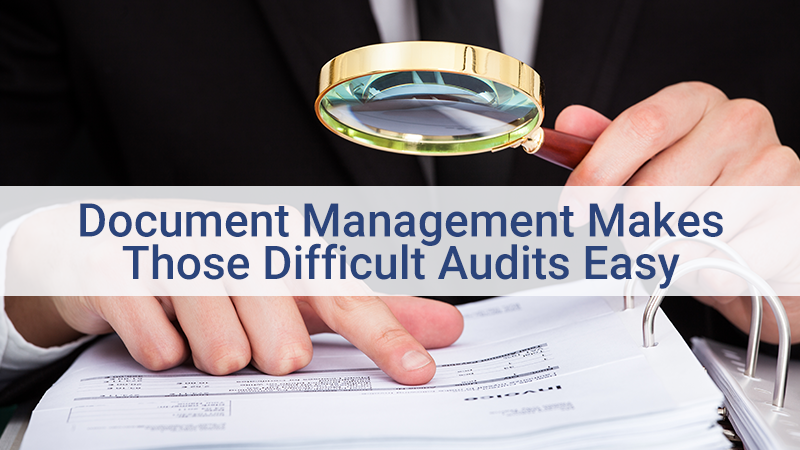 Your business is subject to at least one possible audit any given year. However, depending on the nature of your organization, yours could stand in the path of many different types of audits. From IRS, sales tax and regulatory compliance to merchant services and insurance premium audits, your records could be summoned at any time. If you've been looking for a good reason to incorporate workflow and document management into your business, then the ease of audits alone makes it well worth the switch.
Should Audits Still Mean a Wild Paper Chase?
Not knowing exactly where paper documents are at any given time can prompt that audit a nightmare. Needed records could be hiding under stacks in trays on desks, in filing cabinets, in somebody's briefcase or across town in storage. The time spent gathering then providing needed paperwork disrupts your daily workflow for the duration of the audit. Depending on how many audits you face each year, you might need a special department just for that purpose.
Fortunately, today finds us in the midst of a new record-keeping revolution. Now, we have the capability to originate, manipulate and convert paper chronicles digitally. This may be bigger than the invention of paper.
Securely Beam Your Paper Documents to the Cloud
With an integrated workflow and document management system in place, your organization's forms can start right from digital templates, be tracked for security purposes, sent, edited, stored and retrieved by any authorized user. Those older records can be scanned, organized and stored right alongside the new. An automated central repository puts every document at your fingertips. User permission levels ensure only approved personnel has access to the sensitive information before, during and after an audit.
Make Rain for the Auditors
Once your paperwork ascends securely into its secure cloud, providing only the required records for each specific audit becomes as simple as "ask and you shall receive." In fact, if you code your documents at their inception, you can provide special user access to auditors so they may have full access to all the pertinent records while having none to those outside of their purview. Provided with a terminal and log-in credentials, the auditor can proceed without disrupting your normal flow of business.
What Are You Waiting For?
Every business, large, mid-sized and small, can only benefit from a document management system. Before long, the efficiency of digitizing business processes will be the new normal, expected by staff, supply chain partners, auditors and customers alike. As enterprises streamline their workflows, your business cycles will course more smoothly and you'll enjoy a notable return on investment. But if those perks provide insufficient motivation, simply surviving all the audits with your sanity and business reputation intact should.
At EDGE Business Systems, we offer workflow and document management systems to fit every business situation. We can customize and integrate software according to your company's unique service model. Contact us today to speak to a friendly, knowledgeable representative to see how your business can profit from our document management solutions.