Posted by Tech Support on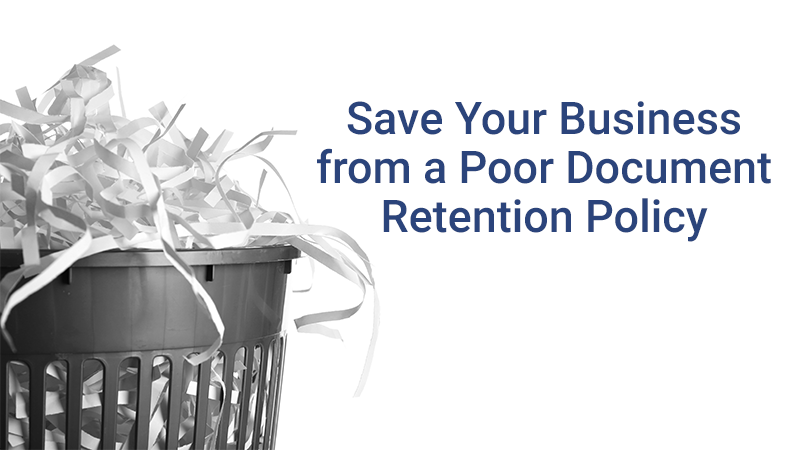 The larger and longer-lived your business, the more flooded with documents it will be. Even small businesses find themselves adjusting space to accommodate the increasing tide of records. Whether your organization archives its activities on paper, in electronic form or both, business efficiency warrants a good document retention policy (DRP). A DRP manages which records remain in any given period and which you can safely relegate to oblivion, thereby permitting an established, right-sized storage arrangement within the budget.
Create and Enforce a Formal Policy
To wrangle your archives properly, you need to formulate a sensible DRP and assign oversight to one member of upper management. Because adherence to the policy is key to its success, that dedicated manager must have the authority to strictly enforce it. Task that person to develop the policy and have them train the rest of the staff on its implementation.
Follow IRS and Government Legal Requirements
The IRS and other taxing authorities have requirements and guidelines for document retention. Be sure to know what these are and follow them as the baseline for the rest of the policy. Besides organizing records for year-end taxes, it may be a good idea to eliminate those tax documents from past years upon which tax bureaucracies have no more claim. Part of the DRP should include regularly-scheduled document dumps.
Ascertain Other Regulatory and Contractual Guidelines
Depending on the individual nature of your business, you may have several regulatory authorities to which you report and which carry their own separate timelines for audits and mandatory document retention. It's up to the DRP manager to research these and implement them in the policy.
Consider What You Would Need for Disaster Recovery
Besides compliance obligations, you should plan your DRP around potential data disasters. In the event of a catastrophe — fire, earthquake, hackers, etc. — what documents would you need to retrieve in order to regain your footing and continue operations?
Litigation Holds
Having a DRP can assist you well in the event of a litigious attack. Once you've been notified of pending litigation, your DRP will be suspended, even when old records come up in the cycle for destruction. When you can demonstrate that your policy is reasonable and that you've always followed it closely, you're unlikely to be accused of selectively destroying records. You can prove that your internal policy requires destruction of particular records at certain times and that you abide by the policy without discrimination.
Retaining every document from the inception of your business is neither feasible nor desirable. Physical and data storage space come with price tags that will only take bigger bites of your annual revenues. Legal actions against you may fail due to the opponents' inability to prove their case when you honestly possess no discoverable documents for them. However, some records must remain within reach for requisite time periods. So, keeping on top of the document retention flow, you protect your enterprise from unnecessary expenses, unpredictable calamities and hostile adjudication.
EDGE Business Systems can help you implement a new document retention policy or improve your present one. We can offer you customized, scalable document management and workflow management systems that make document retention and destruction a relative breeze for your business. To start your new year with an effective document retention program, contact us today to schedule a free consultation with one of our knowledgeable representatives.