Posted by Tech Support on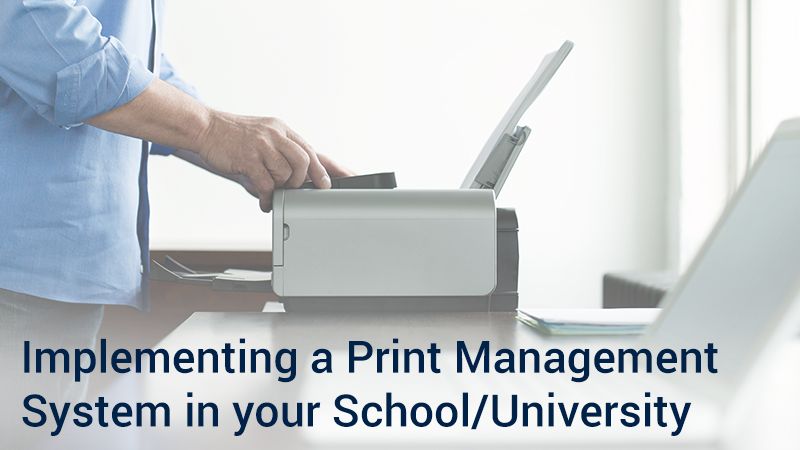 Universities and other higher education facilities are taking advantage of modern print management systems to increase productivity while reducing costs. As digital processes transition away from the traditional printing, copying and scanning habits, they are finding it necessary to control costs and information security through more easily managed and centralized schemes.
Some of the benefits of this movement are tight security for sensitive documents, less wasted ink, toner and paper, and easy digital methods to charge students for use of resources. Having individual printers on every office desk and bins full of abandoned print jobs is falling by the wayside.
Keep Control Over Privacy and Security
Student and faculty information should not be left to chance when it comes to managing private data at your school. Only authorized personnel should be allowed to handle those documents. With a managed print system, only those with the right credentials, whether they're stored on a key card or in a PIN, are able to print, copy or scan secure documents. The protocol can even prevent a user from printing until he or she they are present at the device, keeping records safe from unauthorized eyes.
Send Budget Resources to More Important Projects
As in other businesses, education budgets are finite, so the less spent on waste the better. With print management systems serviced by a professional vendor such as EDGE Business Systems, universities can control the use of printers or multifunctional devices by requiring the person queuing the project to be present at the printer to actually run the print. This means no more hitting the "print" button one instant before noticing a glaring mistake and frantically attempting to stop the print. It can easily be canceled without wasting any paper, toner or ink.
Charge Students for Copies With Easy-to-Use Accounts
The institution for higher education can also recover costs by setting up student accounts to pay for their copies. They can be assigned accounts that can be pre-loaded or connected to popular payment gateways such as PayPal to transfer funds to the university as they use the machines. This plan not only covers the costs of the devices and materials, but because students' own finances are impacted, they are far less likely to use your school's property inappropriately. Also, when the public needs copies, they too can be charged using the pay-as-you-go methods set up for that purpose.
These are just a few of the many perks that come with a good print management system. Education is all about the printed word, so document production, transfer and storage should never impede the primary purpose of higher education.
We at EDGE Business Systems invite you to contact us to see how we can customize the perfect solution for managing not only your printing, scanning and copying requirements, but your entire digital document production, filing and storage needs as well.