Posted by Tech Support on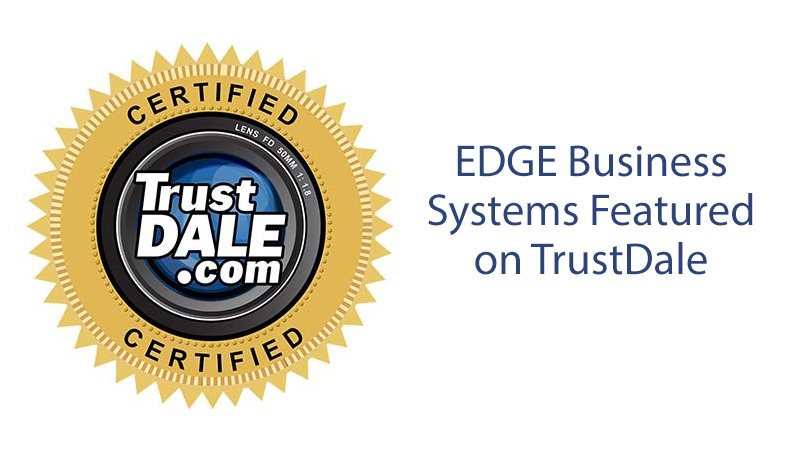 The team at EDGE Business Systems is proud and honored to be among the top choices for business equipment and servicing in the Atlanta area. We know that when your equipment fails to meet the needs of your business, or when you experience a serious malfunction, you are unable to serve your own clients and customers. That is why we offer a full range of sale, leasing and repair services to business owners. We work hard to earn the customer reviews that we receive, and we are incredibly proud of our recent TrustDale Certification and review.
What is TrustDale?
Dale Cardwell is the man behind TrustDale, a respected consumer advocacy resource that uses a set of stringent criteria to review and recommend various services. In order for a company to receive a TrustDale Certification, a 7-Point Investigative Process is initiated. Companies who pass the test are then TrustDale Certified, which puts them on the company's list of guaranteed service providers.
TrustDale Review of EDGE Business Systems
Rich Simon represented EDGE Business Systems in two radio broadcasts with TrustDale. In one interview, Rich spoke about the need for small business owners or independent contractors to find reliable, quality printers that will support their business ventures. Technology has changed over the years, as has the manner in which business equipment is purchased. The benefits of having quality service behind a purchase was highlighted. At EDGE Business Systems, the human component of equipment sales and service is a huge part of the company's success.
The Power of Industry Knowledge
The focus on making technology more user-friendly was also covered, which is a topic of interest to many business owners and managers. Rich pointed out that this is an area where there are significant differences from one company to the next. This is why it is so important to purchase or lease equipment from a company that has a comprehensive understanding of the businesses that develop technology and can guide customers toward the best possible product for their particular set of needs.
The Right Tool for the Job
Finally, the importance of selecting the best possible office equipment for a company's needs was discussed. Cost versus service was the main topic, and the importance of paying for quality yet not overpaying was a key theme discussed. Regarding the business approach that EDGE takes, Rich pointed out that when customers can profit and thrive through robust business solutions or IT service, then the success of EDGE is also positively impacted. That is a critical component of how our team approaches each and every customer interaction.
The team at EDGE Business Systems is here to help with any questions or concerns that you may have about your business printing needs. Feel free to contact us to discuss the products we have to offer, as well as the services that we provide to all of our valued customers.