Posted by Tech Support on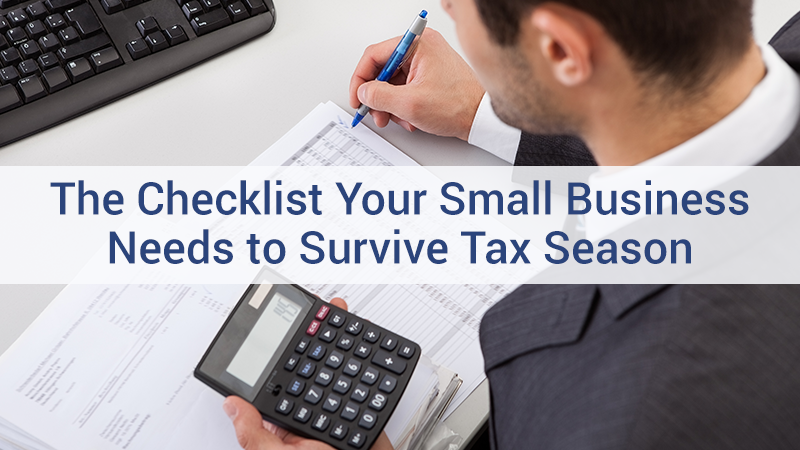 As the year winds down, it's time for small businesses to wrap up the end-of-year tasks and prepare for tax season. While many important reports and documentation won't be ready until the actual end of the year, you should start planning now. If your business uses a good document management system, your year-end work should go smoothly and your tax preparation team will love how easy you make filing your taxes for them. Be sure you have your accounting ducks in a row with the following checklist.
Fourth Quarter 2016
Anticipation of gathering your information for the 2016 tax filing season might cause you to forget that you still have quarterly reports and payments to render! Your calendar may become pretty squeezed in December, but don't overlook the regular tax activities.
Payroll Report Review: Make sure your payroll reports are accurate.
Review and Pay Quarterly Sales Tax: If your business collects sales taxes, review the reports for accuracy and be certain the payments are sent on time.
Make Q4 Estimated Income Tax: Don't forget to make your last estimated income tax payment at the end of the quarter, too. It can be forgotten as you bustle about preparing for the entire 2016 tax year.
Review Outstanding Receivables: If you have aging receivables, you should consider how you wish to handle them. Make contact with your debtors and ask for payment. You should decide on what to do with any uncooperative customers. Will you continue to carry them, pursue collections or write them off?
Year End
Once the year ticks over to 2017, you can finalize all of your 2016 reports and activity at last! If you've managed to stay on top of your paperwork, you should be able to package it up and send it to your tax team in early January. The sooner it's out of your hair, the easier it will be to focus on your business in the new year.
Prepare Financial Reports (by first week of January): Compile and print your Profit and Loss report, Balance Sheet and Statement of Cash Flows. Review these carefully to identify any income or expense trends that may be impacting your bottom line.
Review Unsold Inventory: Determine the value of your unsold stock and consider writing it down. You don't want to pay taxes on unsalable inventory when you don't owe it.
Complete and Send W-2 and 1099-MISC Reports (no later than February 1): Fill out the W-2 and 1099-Misc forms for your employees and try to mail them as early in January as possible. Although the IRS gives you until the first of February to do this, your employees will most likely start asking you for them by the second day of January. They want to file their taxes to get any refunds due as soon as possible.
Have your banking, investment income statements and expense documents in order and ready for your tax team (by end of January): Every receipt, invoice and expense report should be neatly filed and easy to find.
As mentioned, if you already have a good document management system in place, all of these end of year and tax season chores will take very little time to complete. However, if your small business has yet to implement the means to readily ride herd on your paperwork, it's time to call EDGE Business Systems. We offer customized, scalable and secure document management plans to fit your business whether it's small, mid-sized or large. Contact us today to prepare your business for a new year with document solutions from EDGE Business Systems!